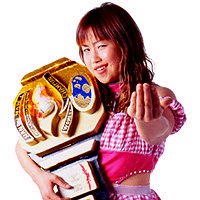 Sakura Hiroto
Birthday: April 12th, 1978
Height: 5' 3"
Weight: 138 pounds
Blood Type: A
From: (Owariasahi) Aichi, Japan
Favourite Moves: Evil Pink Mist, Low Blow, Hip Attack, Palo Special, Eccentric, Hena Stretch, Uraken
Career Highlights: Hirota Henatyoko Handmade Champion

Debuted August 12th, 1996 in Budokan Tokyo teaming with Chigusa Nagayo. Sakura Hirota is not the best wrestler in the world by any stretch of the imagination, but she might be the funniest. She's well known for various wrestler impersonations, often coming out dressed as other Japanese wrestlers and even once as The Rock. A very personable girl with a great sense of humor, Sakura's jokes at often times even crack up the women she's impersonating.

Her debut is a very precious moment of Japanese female pro wrestling history. At first, she was popular by fighting seriously. But in September 1996, she said "Cheap opinion", which was her turning point to change her fighting style. On October 10, 1997 at Kourakuen Hall in Tokyo, Hirota started tough tag matches named "No More Stupid Road" from this show. She and Nagayo fought with Tag champions, Satomura & Kato, Sugar & Nagashima, Lascachorras Orientales and Hokuto. She fought 3 times in a day at Shizukuishi show in October 17. She lost all matches by pin. She made the dishonor record. She got in the ring with her hand made costume every match from late 1998. She is popular as a comic wrestler.

She does whatever she wants whenever she wants to. She has made a HHH (Hirota Henatyoko Handmade) championship belt out of cardboard. She has changed her name to Akura Hirota, a heel persona, with the unit "P&A" with a mystery male manager "police", dyed her hair blond and became a pledge of the unwilling Akira Hokuto early in the year. Akira/Akura, get it? Akira Hirota has even dressed up as Bull Nakano, attacking with stuffed nunchakus. In with the comedy, however, Hirota actually wrestles, and it's not all bad. It is often slow and kind of sloppy, but at least it exists.

She is the most talkative girl in the Japanese female pro wrestling world. She plays on many Japanese comic TV programs. She is a heretic who has ever played the semi leading part in NHK TV program 'Junior high school diary'.

She spews evil pink mist. She cut a Dusty Rhodes-worthy bladejob at the June 2 Korakuen Hall show against D-Fix for the AAAW tag titles. She's on her way to Shut Your Mouth.